Looking for Mr. Right?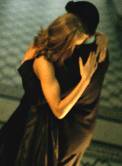 THURSDAY, May 28 --Being conscientious is good for your health and might even benefit the health of your spouse or partner, a new study finds.
Looking at adults aged 50 and over, researchers from the University of Illinois and University of Michigan also found that women who are paired with a male who is both conscientious and neurotic can gain a greater health advantage. The same is not true for men, though.
The researchers asked more than 2,000 older couples to rate their own levels of conscientiousness and neuroticsm, and then assess their health based on how well they could perform everyday tasks like climbing stairs. The findings appear in the May issue of Psychological Science.
Past studies and this one found that conscientious people tend to take better care of themselves by eating well, exercising and avoiding poor health choices. By contrast, highly neurotic people are worriers prone to anxiety and moodiness -- both relationship and health killers.
"Highly conscientious people are more organized and responsible and tend to follow through with their obligations, to be more impulse-controlled and to follow rules," study leader Brent Roberts, a University of Illinois psychology professor, said in a news release.
And that, the researchers found, can rub off on those close to them. "Human beings are not islands," Roberts said. "We are an incredibly interdependent species."
"It appears that even if you are really highly conscientious, you can still benefit from a spouse's conscientiousness," he said. "It makes sense that regardless of what your attributes are, if you have people in your social network that have resources, such as conscientiousness, that can always help."
The study also found that, while men and women both benefit from having a conscientious partner, only women gained a health advantage from being with a man who was also neurotic.
More information
The U.S. National Institutes of Health has more about healthy aging.
© 2018 HealthDay. All rights reserved.
Posted: May 2009