Limited Use of Antibiotics OK for Dental Patients: Study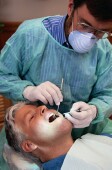 FRIDAY, June 15 -- New U.S. guidelines recommending limited use of antibiotics in dental patients have not led to an increase in cases of the heart condition infective endocarditis, a new study says.
The number of cases has actually decreased since the American Heart Association guidelines were introduced in 2007, researchers found.
Infective endocarditis is a bacterial infection of the heart lining, valves or blood vessels. It can occur when bacteria enter the bloodstream through wounds in the gums that arise during invasive dental procedures such as a tooth extraction. Left untreated, the infection can cause death.
Previously, many patients received preventive antibiotics before having dental procedures. The new guidelines advised that patients take antibiotics before dental procedures only if they are at risk from infective endocarditis.
These patients include those with artificial heart valves, transplanted hearts with abnormal heart valve function, previous infective endocarditis, and specific heart defects.
In this study, researchers examined data from Olmsted County, Minn., and found 22 patients diagnosed with infective endocarditis between 1999 and 2010. Projected nationally, the researchers said the data suggests that infective endocarditis occurred in two to three of every 100,000 people in the United States before the new guidelines, and in one of every 100,000 after the new guidelines.
The researchers also found that the number of infective endocarditis cases diagnosed in the United States each year went from 15,300 to 17,400 in 1999-2006 to 14,700 to 15,500 in 2007-2009.
The study was published June 11 in Circulation.
"We were giving preventive antibiotics like we were treating an entire iceberg, when we only needed to treat the very tip of that iceberg," lead author Dr. Daniel DeSimone, an internal medicine resident at the Mayo Clinic in Rochester, Minn., said in an American Heart Association news release. "Millions of people once getting antibiotics now are not."
DeSimone added, "These findings are reassuring, but additional studies are needed to further support our findings."
Because Olmsted residents are primarily white, the findings might not apply to other races, the researchers said.
More information
The American Dental Association has more about antibiotics.
© 2018 HealthDay. All rights reserved.
Posted: June 2012