Leukemia Patients Taking Gleevec Achieve 'Normal' Death Rate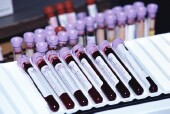 TUESDAY, March 22 -- The death rate of patients with chronic myeloid leukemia who took Gleevec and were in remission two years after treatment was similar to the death rate in the general population, a new study shows.
Italian researchers collected data on 832 patients who were taking Gleevec (imatinib) for up to eight years and found that 20 patients died during the follow-up period. That death rate of 4.8 percent, however, is similar to what would be expected in the general population.
Only six deaths were related to chronic myeloid leukemia (CML), the researchers noted.
Serious adverse events such as cardiovascular and digestive problems were reported in 139 patents, but only 27 cases (19 percent) were considered to be related to Gleevec, according to the study.
Other adverse events frequently connected to Gleevec included muscle cramps, weakness, edema, skin fragility, diarrhea, and tendon or ligament lesions. Nineteen patients (2.3 percent) stopped taking Gleevec due to side effects, with half switching to another drug.
Patients taking Gleevec "frequently suffer from side effects that are non-serious but can nonetheless reduce their quality of life," the researchers wrote.
The study authors disclosed no conflicts of interest, noting that their independence from pharmaceutical interests was a major strength of the study.
The researchers also noted the "importance of a good patient-provider relationship, in which side effects are easily communicated and addressed to reduce/avoid non-compliance."
In an accompanying editorial, Dr. B. Douglas Smith of the Sidney Kimmel Comprehensive Cancer Center at Johns Hopkins in Baltimore, noted "the astounding effect [imatinib] has had on the clinical course of this disease."
However, he wrote that many patients in the study had been treated first with interferon, which may have been a factor in their remissions. For this reason, he concluded, "a careful analysis of the two groups" -- patients who had taken interferon and those who had not -- "might help shed light on this issue."
The study appears online March 22 in the Journal of the National Cancer Institute.
More information
The American Cancer Society has more about chronic myeloid leukemia.
© 2018 HealthDay. All rights reserved.
Posted: March 2011