Less Lighting Up in Movies Aimed at Kids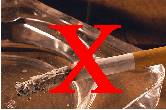 THURSDAY, July 14 -- The number of films that children are likely to see that include smoking has dropped for the fifth straight year, a new report finds.
Overall, there has been a nearly 72 percent drop since 2005 in smoking depictions in movies rated G, PG or PG-13 -- from 2,093 incidents of onscreen smoking to 595 in 2010. In addition, the average number of smoking incidents in youth-rated films dropped more than 66 percent -- from about 20 percent in 2005 to 6.8 percent in 2010.
"This study shows that studios know how to eliminate smoking from youth-rated movies and have nothing to fear from a policy requiring them to do so," said Vince Willmore, a spokesman for the Campaign for Tobacco-Free Kids. "The Motion Picture Association of America should move quickly to adopt a policy requiring an R-rating for any movie that depicts smoking that is not in a historical setting," he said.
However, the drop in onscreen smoking varied depending on the motion picture company, according to researchers led by Stanton Glantz, director of the Center for Tobacco Control Research and Education at the University of California, San Francisco. His team found that from 2005 to 2010, companies that had policies to reduce onscreen smoking had an average decrease in depictions of almost 96 percent, compared with about 42 percent among companies that have no such policies, according to the report.
The report is published in the July 15 issue of the U.S. Centers for Disease Control and Prevention's journal, Morbidity and Mortality Weekly Report.
According to the U.S. National Cancer Institute, studies show that seeing smoking in movies is directly related to getting adolescents to start smoking.
In fact, teens exposed to the most onscreen smoking are twice as likely to start smoking as teens who see little or no onscreen smoking, the new report said.
That's why it's heartening that "the percentages of 2010 top-grossing movies with no tobacco incidents were the highest observed in two decades," according to the study authors. They contend that the drop in onscreen smoking "might have contributed to the decline in cigarette use among middle school and high school students."
More information
For more on teen smoking, visit the U.S. National Library of Medicine.
© 2018 HealthDay. All rights reserved.
Posted: July 2011