Japanese Researchers Develop New Smallpox Vaccine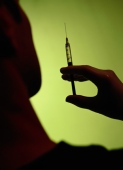 TUESDAY, March 10 -- A third-generation tissue-cultured smallpox vaccine shows promise, Japanese researchers report.
"The threat of smallpox bioterrorism has prompted reconsideration of the need for smallpox vaccination," the researchers noted. "Serious events associated with first-generation vaccines #133; have raised obstacles to vaccination campaigns in the United States."
Second-generation vaccines also cause a high rate of serious side effects, they said.
"Developing a vaccine that is safer than first-generation vaccines yet highly immunogenic [producing immunity or an immune response] is crucial to constructing a prevention plan in the event of bioterrorist attack," they added.
The researchers studied the clinical and immunological responses to the LC16m8 vaccine in 1,692 adults who had previously been vaccinated against smallpox and 1,529 adults who had not been vaccinated. LC16m8 is a live, attenuated (reduced in strength) vaccine.
Participants were examined 10 to 14 days after being vaccinated. The researchers found that antibodies developed in about 90 percent of those who had not been previously vaccinated, and an effective booster response occurred in 60 percent of those who had previously been vaccinated. None of the participants suffered serious side effects.
The study "offers supported evidence for the safety of LC16m8 vaccine in adults," wrote Dr. Tomoya Saito, of Keio University in Tokyo, and his colleagues."LC16m8 vaccine appears to be a viable alternative to first-, second- and other third-generation vaccines in a smallpox [bioterrorism] preparedness program."
The study appears in the March 11 issue of the Journal of the American Medical Association.
More information
The U.S. Centers for Disease Control and Prevention has more about smallpox.
© 2018 HealthDay. All rights reserved.
Posted: March 2009