Improved Hip Implants Can Last 20 Years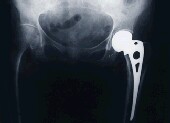 MONDAY, May 18 -- Total hip replacements that use cement-less components can last 20 years -- twice as long as previous versions, a new study has found.
Researchers at Rush University Medical Center in Chicago found that only five of the 124 cement-less metal Harris-Galante implants used to replace the bone that fits into the hip socket had failed over two decades in the patients under review, according to a study in the May issue of the Journal of Bone and Joint Surgery.
Early versions of hip implants used a special cement to help secure the replacement joint to the patient's bones, but these failed more often, especially after 10 years' use. Instead of cement, the new implants use a porous material to which bone can fuse to create a stronger, longer-lasting bond.
"Our results confirm earlier work done at Rush and at other institutions: that cement-less acetabular components work very well and that long-term biological fixation can be obtained," study author Dr. Craig Della Valle, an orthopedic surgeon at Rush, said in a news release.
The findings are good news for active, younger people who require hip replacements.
The study followed patients who received hip replacements at Rush over the past two decades and found few of the new implants failed to the point that further replacement surgery was needed. However, the team did note that a fifth of the patients experienced enough wear and tear on the plastic lining of the implant's metal shell that further, though less invasive, surgery was required or recommended.
"The average age of the patients in this study was 52 years, much younger than most patients who underwent hip replacements at the time. So the high rate of wear-related complications was not completely unexpected," study co-author Jorge Galante, former chairman of orthopedics at Rush and one of the developers of the implant, said in the same news release.
Some patients also required some surgical intervention to correct osteolysis -- bone resorption resulting from the wear and corrosion of the metal implants, but this may be less of an issue in the future because new versions use more wear-resistant bearing surfaces, Della Valle said.
More information
The U.S. National Institute of Arthritis and Musculoskeletal and Skin Diseases has more about joint replacement.
© 2018 HealthDay. All rights reserved.
Posted: May 2009