Imported Ricotta Cheese Recalled Due to Listeria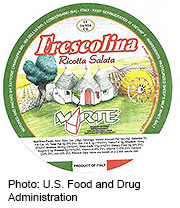 WEDNESDAY, Sept. 12 -- Listeria-linked illness affecting 14 people in 11 states and the District of Columbia -- including three fatalities -- have prompted the recall of an imported ricotta salata cheese, the U.S. Centers for Disease Control and Prevention announced on its website Tuesday.
On Monday, "Forever Cheese, Inc., voluntarily recalled one lot of Frescolina brand ricotta salata cheese due to Listeria monocytogenes contamination," the CDC said.
Listeriosis is a sometimes severe foodborne bacterial illness. According to the CDC, local, state and federal investigations have pinpointed the Frescolina cheese as the likely source of the outbreak, and 12 of the 14 people who fell ill say they consumed a soft cheese prior to becoming sick. The U.S. Food and Drug Administration has also identified the outbreak strain of Listeria in a sample of uncut Frescolina cheese, the CDC said.
Ricotta salata is a salty, dry, crumbly cheese, not the soft ricotta used in most lasagna.
The cheese was sold to distributors for retailers and restaurants in California, Colorado, District of Columbia, Florida, Georgia, Illinois, Indiana, Maine, Maryland, Massachusetts, Montana, New Jersey, New Mexico, New York, Ohio, Oregon, Pennsylvania, Virginia, and Washington between June 20 and Aug. 9, the FDA said.
The recalled packages carry lot number T9425 and/or production code 441202, according to the FDA.
Anyone who bought recalled Frescolina ricotta salata cheese should discard any remaining cheese and not eat it. This is especially important for pregnant women, those with a weakened immune system, and older adults. When in doubt, throw it out.
So far, three cases have been reported in Maryland and one case each from California, Colorado, the District of Columbia, Minnesota, Nebraska, New Jersey, New Mexico, New York, Ohio, Pennsylvania and Virginia. The CDC said three cases ended in deaths in Minnesota, Nebraska and New York. Listeriosis is thought to have contributed to the deaths in Nebraska and New York but not to the death in Minnesota.
All 14 of the people who became sick required hospitalization, with diagnoses ranging from late March to late August of this year. Four of the illnesses were tied to a pregnancy, and two of those cases occurred in newborns. The other 10 patients ranged from 56 to 87 years of age.
The CDC noted that "the investigation is complex because ill persons reported consuming many different cheeses from many different retail locations. No one cheese was reported by the majority of ill persons, suggesting that cross-contamination of other cheeses through cutting boards and utensils may have played a role."
According to the CDC, about 800 cases of laboratory-confirmed listeriosis are reported in the United States annually. Foods linked to prior outbreaks include cantaloupe, celery, Mexican-style soft cheeses, ready-to-eat deli meat and sprouts.
Consumers who have purchased the cheese should contact the distributor or retailer for a refund. If you have questions, you can call Jeff DiMeo at Forever Cheese (888) 930-8693 between 9 a.m. and 5 p.m. Eastern time and mention "recall."
More information
There are more details on the outbreak at the U.S. Centers for Disease Control and Prevention.
© 2018 HealthDay. All rights reserved.
Posted: September 2012