ICU Nutritional Program Failed to Boost Outcomes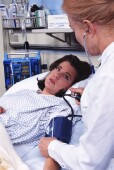 TUESDAY, Dec. 16 -- Providing earlier nutritional support for intensive care unit (ICU) patients didn't reduce their length of stay in the ICU or their risk of death, according to a study by researchers in Australia and New Zealand.
Previous research had suggested that early nutritional support (provided within 24 hours of injury or ICU admission) was important for critically ill patients and reduced their risk of death. However, up to 40 percent of eligible patients remain unfed after 48 hours in the ICU.
In this study of 1,118 adult patients, the researchers examined whether guidelines could improve ICU feeding practices and patient outcomes. ICUs were randomly assigned as either guideline or control sites. The guideline consisted of 18 specific interventions, supported by educational outreach visits.
Many more patients in the guideline ICUs received nutritional support (94.3 percent vs. 72.7 percent) and were fed within 24 hours of ICU admission (60.8 percent vs. 37.3 percent). Patients in guideline ICUs were fed much sooner -- an average of 0.75 days vs. 1.37 days to start of enteral nutrition (food provided through a feeding tube placed through the nose and into the stomach or small intestine), and an average of 1.04 days vs. 1.40 days to start of parenteral nutrition (intravenous feeding).
The study also found that patients in the guideline ICUs achieved caloric goals more often and were fed on a greater proportion of ICU days (8.08 vs. 6.90 fed days per 10 patient days).
However, there were no significant differences between guideline ICU and control ICU patients in terms of ICU or hospital death rates or average length of stay in the ICU or hospital. Kidney dysfunction was significantly lower in the guideline ICU patients, but there was no difference in the use of renal replacement therapy, such as dialysis.
"Although the successful implementation of the guideline resulted in significant practice change, it did not result in reduced hospital mortality in critically ill patients," the researchers concluded.
The study was published in the Dec. 17 issue of the Journal of the American Medical Association.
© 2018 HealthDay. All rights reserved.
Posted: December 2008