Hospital Infection Raises Death Risk for Bowel Patients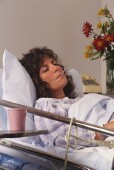 FRIDAY, April 22 -- Patients hospitalized for treatment of inflammatory bowel disease (IBD) have a six-fold increased risk of death if they become infected with Clostridium difficile bacteria, a new study finds.
IBD includes Crohn's disease and ulcerative colitis. When people with IBD experience severe symptoms, they often require hospitalization, note the researchers at Imperial College London and St. George's Healthcare NHS Trust in the United Kingdom.
They examined data on IBD patients hospitalized between 2002 and 2008 and found that those infected with C. difficile in the hospital were six times more likely to die in the hospital than those not infected with the bacteria. The death rate at 30 days was 25 percent for those with C. difficile and 3 percent for those who were free of the bacteria.
The researchers also found that IBD patients with C. difficile stayed in the hospital longer (a median stay of 26 days vs. five days) and were nearly twice as likely to require gastrointestinal surgery.
The study was published April 19 in the journal Alimentary Pharmacology and Therapeutics.
C. difficile bacteria -- found in the gut in around two-thirds of children and 3 per cent of adults -- do not cause illness in healthy people. Broad-spectrum antibiotics can cause problems by eliminating harmless bacteria that usually live in the gut, permitting C. difficile to thrive and produce toxins that cause diarrhea and fever. The infection, however, is rarely lethal in people who are not already elderly or extremely ill.
"Hospitals must do everything they can to control infections such as C. difficile. We are asking for these high-risk patients to be screened for C. difficile proactively on admission to hospital so that if they are exposed, they can be diagnosed and treated more quickly," study author Dr. Sonia Saxena, School of Public Health, Imperial College London, said in a college news release.
More information
The Crohn's & Colitis Foundation of America has more about inflammatory bowel disease.
© 2018 HealthDay. All rights reserved.
Posted: April 2011