Hormone Therapy for Prostate Cancer Raises Heart Risks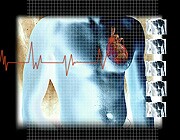 TUESDAY, Sept. 22 -- Hormone therapy to treat advanced prostate cancer can increase the risk of heart disease, but some types of hormone therapy appear to be safer than others, new research has found.
The study included 30,642 Swedish men with either locally advanced prostate cancer or prostate cancer that had spread (metastatic cancer), who had received hormone therapy as primary treatment for their cancer.
The study findings were scheduled to be presented Tuesday at the European Cancer Organization meeting in Berlin.
In a news release from the European Cancer Organization, the researchers described the types of hormone therapy used: removal of the testicles to eliminate the main source of testosterone production; injections of gonadotropin-releasing hormone agonists to reduce testosterone production by the testicles; and anti-androgen pills that block testosterone from attaching to prostate cells. Most of the patients received one treatment, but 38 percent were given two types of drugs, the study authors noted.
The men were followed for an average of three years and monitored for ischemic heart disease, heart attacks, arrhythmia, and heart failure.
"We found that prostate cancer patients treated with hormone therapy had an elevated risk of developing all of the individual types of heart problems and that they were more likely than normal to die from those causes," study lead author Mieke Van Hemelrijck, a cancer epidemiologist at King's College in London, England, said in the news release.
Specifically, hormone therapy was associated with a 24 percent increased risk of heart attack, a 19 percent increased risk of arrhythmia, a 31 percent increased risk of ischemic heart disease, and a 26 percent increased risk of heart failure, the researchers found. The increased risk of heart disease began a few months after the men began hormone therapy.
The study also found that hormone therapy was associated with a 28 percent increased risk of fatal heart attack, a 21 percent increased risk of dying from heart disease, a 26 percent increased risk of death from heart failure, and a 5 percent increased risk of fatal arrhythmia.
"In a more detailed analysis by type of hormone therapy, the lowest increase in risk for ischemic heart disease, heart attack and heart failure was seen in the group taking anti-androgen therapy, and we saw no increase in risk of death from heart disease in this group. Patients on gonadotropin-releasing hormone agonist therapy had the highest risk of these problems," Van Hemelrijck said.
The findings suggest that physicians should consider heart-related side effects when prescribing hormone therapy for prostate cancer patients and may want to refer patients to a cardiologist before the start of hormone therapy, the researchers stated.
© 2017 HealthDay. All rights reserved.
Posted: September 2009
Recommended for you