Homelessness Tied to Kids' Mental Health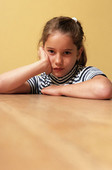 FRIDAY, July 31 -- About one in 14 fifth-graders have been homeless at some time in their lives, and these children, like their adult counterparts, are more likely to have a mental health issue, a new study reports.
The research, which involved more than 5,100 fifth-graders from Los Angeles, Houston and Birmingham, Ala., did not determine whether the experience of homelessness led to the children's emotional, behavioral or developmental issues. It did note that the children who'd been homeless were more likely to have received some sort of mental health care during their lifetime.
Black children and those from the lowest-income families had slightly higher rates of homelessness, with 11 percent having experienced it at some point in their lives, compared with 7 percent for the children overall, the study found.
The findings, which are in the August issue of the American Journal of Public Health, were based on interviews conducted over two years with parents and children by research teams from the University of California, Los Angeles, and the RAND Corp., a nonprofit think tank.
"It was unexpected to see such a high prevalence of family homelessness in this sample of fifth-grade students, especially since this number only included children whose parents reported that they were literally homeless -- staying in places like shelters, cars or on the streets," the study's lead author, Dr. Tumaini R. Coker, clinical instructor of pediatrics at Mattel Children's Hospital at UCLA and an associate natural scientist at RAND, said in a news release from the university.
Dr. Mark A. Schuster, a pediatrics professor at Children's Hospital Boston and Harvard Medical School and the study's senior author, said in the news release that the findings should put children's doctors on alert that their patients could be homeless and in need of other types of assistance and care.
More information
The U.S. Substance Abuse and Mental Health Services Administration has more about youth and mental health.
© 2018 HealthDay. All rights reserved.
Posted: July 2009