Heart Stress Test Likelier When Doctor Owns Equipment: Study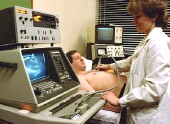 TUESDAY, Nov. 8 -- Doctors who own equipment for cardiac stress tests are more likely to perform the tests, even when guidelines don't recommend it.
The same was true if the doctor didn't necessarily own the equipment but did interpret the results in his or her own office, according to a study in the Nov. 9 issue of the Journal of the American Medical Association.
The authors of the study looked specifically at patients who had recently undergone revascularization procedures to open blocked arteries.
There are no recommendations to support routine testing of patients with no symptoms within two years of having a procedure such as balloon angioplasty or receiving stents, or within five years of having coronary artery bypass surgery.
It's well known that imaging has exploded in many areas of medicine, particularly cardiology. The trend has also been linked previously to physician reimbursement.
One recent study found that doctors are far more likely to refer patients complaining of lower back pain for an expensive MRI scan if they own or lease such imaging equipment.
The authors of the new study looked at data on nearly 18,000 patients enrolled in a national insurance plan, UnitedHealthcare, which also funded the study, who had undergone revascularization within the past several months.
The data only included procedures performed between 2004 and 2007. Guidelines for routine testing after such a procedure weren't introduced until 2007.
Two types of tests were looked at: nuclear stress testing (which uses radioactive material to see blood flow) and stress echocardiography (which uses ultrasound), but the authors reported results only on nuclear, which was the most common test in this group, according to study lead author Dr. Bimal R. Shah, an assistant professor of medicine at Duke University Medical Center.
Nuclear stress testing was about 2.3 times more common in physicians who charged both technical fees (for such things as equipment and overhead) and professional fees (largely for interpretation of the results) than in those who billed for neither, said Shah.
Nuclear testing rates were about 50 percent higher among physicians who just billed for professional services versus those who didn't bill for either, he added.
Testing did tend to be more common among patients who had symptoms, although up to 10 percent of patients in this study who underwent testing had no symptoms.
Shah acknowledged that more current data need to be obtained, given that guidelines as well as Medicare/Medicaid reimbursement have changed since the study was finished.
And some of the testing may indeed have been necessary, given that billing information can only reveal so much about a patient's overall status.
"There are certainly reasons that patients may be getting tested: patient reassurance, physician reassurance or [if an employer requires it] before returning to work," Shah said. But there were large variations, he noted.
"This has been a concern for a long time, [but] how important this is financially and from a risk perspective may be overemphasized," said Dr. Robert Hendel, a professor of medicine and radiology and director of cardiac imaging at the University of Miami School of Medicine. "We have made great strides [since 2007] to make people aware that we have to be much more concerned about how we utilize testing both in terms of risk and extent."
Regardless of the issue of reimbursement, though, "the bigger issue is that we want to discourage all inappropriate testing," Hendel said.
More information
The U.S. National Library of Medicine has more on nuclear stress testing.
© 2018 HealthDay. All rights reserved.
Posted: November 2011