Health Organizations Cheer Senate Vote on Tobacco Control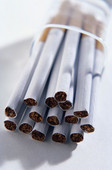 THURSDAY, June 11 -- The U.S. Senate's historic vote late Thursday to give the U.S. Food and Drug Administration control over tobacco products brought cheers from health organizations across the country.
The legislation "will finally put an end to Big Tobacco's despicable marketing practices that are designed to addict children to its deadly products," said John R. Seffrin, CEO of the American Cancer Society Cancer Action Network.
"Senate passage of the 'Family Smoking Prevention and Tobacco Control Act' has the potential to reduce the scourge of tobacco products, which kill more than 400,000 Americans every year," he added.
The bill, already passed by the House and now headed to a bipartisan committee for reconciliation before it gets President Obama's signature, authorizes the FDA to set levels for nicotine and other cigarette ingredients, and requires tobacco makers to list the contents of their products. It also requires the FDA to approve any new products in much the same way that it now does with drugs and medical devices. And it gives the FDA the authority to require stronger warnings on cigarette packaging.
Speaking for the American Heart Association, CEO Nancy Brown said, "The U.S. Senate has taken a bold and courageous step to ensure a healthier future for our children.…The legislation will allow us to protect them from a dirty business that has infiltrated school grounds and homes for many generations," she added. "Too many graveyards are marked by the consequences of the industry's actions. With each puff of a cigarette, smokers increase their risk for heart disease, stroke and other cardiovascular diseases, and Big Tobacco's irresponsible marketing campaigns have made it increasingly difficult to break the cycle of addiction and save lives."
Dr. Douglas W. Blayney, president of the American Society of Clinical Oncology, stated, "Tobacco use is associated with increased risk for at least 15 types of cancer and is responsible for 30 percent of cancer deaths. Lung cancer has emerged from relative obscurity at the start of the 20th Century to become the most common type of cancer today, with 87 percent of all cases attributable to smoking. To reverse this trend, the FDA must be able to step in and regulate these deadly products."
And Dr. Nancy Nielsen, president of the American Medical Association, said, "Passage of this historic legislation by both the House and Senate is a victory for public health over Big Tobacco." She noted, "The actions resulting from this landmark legislation may make people think twice before picking up a cigarette. The sad truth is that tobacco-related deaths are the number one preventable cause of death in the U.S."
And the American Lung Association added this:
"Today marks an historic culmination of a more than 20-year journey to provide the (FDA) urgently needed regulatory control over the tobacco industry," said Paul G. Billings, the American Lung Association's vice president for policy and advocacy. "This long-overdue legislation will protect kids and reduce the terrible human and financial burden caused by tobacco use in this country."
"While we celebrate this notable victory, we recognized that we have yet to win the war," added Charles D. Connor, the lung association president and CEO. "As the FDA tobacco legislation continues its way to the President's desk for signature, we will also continue our work for higher tobacco taxes, smoke-free laws and funding of tobacco control and prevention programs at the state level to reduce tobacco use and save lives."
More information
The American Cancer Society offers a guide for quitting smoking.
© 2018 HealthDay. All rights reserved.
Posted: June 2009