Greener Neighborhoods Mean Slimmer Children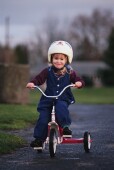 FRIDAY, Nov. 14 - Greener neighborhoods, with lots of trees, help inner city kids keep excess pounds at bay, according to a U.S. study.
"Previous work, including our own, has provided snapshots in time, and shown that for children in densely population cities, the greener the neighborhood, the lower the risk of obesity. Our new study of over 3,800 inner-city children revealed that living in areas with green space has a long-term positive impact on children's weight and thus health," study senior author Gilbert C. Liu, an assistant professor of pediatrics at the Indiana University School of Medicine, said in a school news release.
The children in the study, ages 3 to 18 years, were in the same residence for more than 24 consecutive months. Higher neighborhood "greenness" was associated with slower increases in body mass index (BMI) over time, regardless of age, race or sex, said the researchers. They added this slowing of BMI could reduce the risk of child obesity in the long term.
The findings were published in the December issue of the American Journal of Preventive Medicine.
Trees and other urban vegetation improve a neighborhood's appearance, reduce pollution, and keep the area cooler in the summer -- all of which encourage children to be outside playing, walking and running, the team said.
Being active reduces the risk of obesity, which is associated with a number of health problems including type 2 diabetes, asthma, hypertension, sleep apnea and emotional distress. Obese children are likely to become obese adults.
"Obesity is a national epidemic necessitating the involvement of health-care providers, parents, and the community," Liu said. "Our lifestyle makes us sedentary and less healthy. For children, physical activity is active play, and that usually takes place outdoors. We need to encourage them to go outside and play. I love the idea that we can landscape for health."
More information
The Nemours Foundation has more about overweight and obesity in children.
© 2018 HealthDay. All rights reserved.
Posted: November 2008