Grape Seed Extract Kills Leukemia Cells in Lab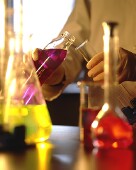 WEDNESDAY, Dec. 31 -- More than three-quarters of laboratory leukemia cells exposed to an extract from grape seeds died within 24 hours, effectively killing themselves while leaving other cells unharmed, a new study shows.
University of Kentucky researchers say they found that the extract activates JNK, a protein that regulates the cell-signaling pathway the leads to cell death, or apoptosis.
The findings appear in the Jan. 1 issue of Clinical Cancer Research.
"These results could have implications for the incorporation of agents such as grape seed extract into prevention or treatment of hematological malignancies and possibly other cancers," study author Xianglin Shi, a professor in the Graduate Center for Toxicology at the University of Kentucky, said in a news release issued by the journal's publisher.
Shi cautioned that the research is still preliminary: "This is very promising research, but it is too early to say this is chemo-protective."
Previous studies have shown that eating vegetables and fruits helps prevent cancer development and that flavonoids and grape seed extract might cause cancer cell death and reduce certain tumors.
Shi treated the leukemia cells with a commercially available grape seed extract in different doses. The higher doses caused more apoptosis in the leukemia cells, yet did not affect normal, healthy cells.
The extract proved ineffective, though, when researchers added an agent to it that inhibited the JNK protein or used genetic engineering to shut down the JNK gene.
More information
The National Center for Complementary and Alternative Medicine has more about grape seed extract.
Posted: December 2008
Recommended for you