Ginkgo Won't Prevent Alzheimer's, Study Finds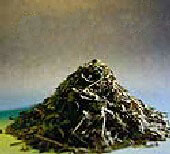 WEDNESDAY, Sept. 5 -- Yet another study, this one by French researchers, finds that the herbal supplement ginkgo biloba won't prevent or delay Alzheimer's disease.
"One would hope that this would be the final nail in the coffin for ginkgo," said Dr. Sam Gandy, the Mount Sinai chair in Alzheimer's Disease Research and associate director of the Mount Sinai Alzheimer's Disease Research Center in New York City. "Dead and buried. Enough said. Time to move on."
The report is published in the Sept. 6 online edition of The Lancet Neurology.
In the French study, Dr. Bruno Vellas from the Hopital Casselardit in Toulouse and colleagues enrolled more than 2,800 people aged 70 and older who reported having memory problems. These patients were randomly assigned to take ginkgo biloba extract or an inactive placebo.
After five years, 61 (4 percent) of those taking ginkgo biloba developed Alzheimer's as did 73 (5 percent) of those taking a placebo. This difference was not statistically significant, the researchers noted.
In addition, there were no significant differences between the groups in the number of strokes or deaths, the investigators found.
"We were not able to demonstrate the protective effect of ginkgo," Vellas said. "More studies are needed on potential long-term exposure."
Another expert said this is the third trial to test ginkgo biloba with Alzheimer's disease; a U.S. study published in 2009 also found the herbal extract had no protective effect.
"As it stands, the only hopeful possibility for anything positive from this negative trial would be from the subgroup analysis and the finding that the ginkgo group did better in the last year of the study when the placebo group conversion to Alzheimer's disease suddenly spiked," said Greg Cole, associate director of the Alzheimer's Disease Research Center at the University of California, Los Angeles.
"Because the dementia rates in both groups were steady for the first four years, this burst in the placebo group's final year was probably just a statistical fluke, but who knows for sure," he said.
It remains an open question how early and how long one needs to treat in prevention trials and how long efficacy may lag behind treatment, Cole said. "We have to learn as much as possible from every prevention trial, including all the negative ones, to figure out how to run them as quickly and cheaply as possible and find something that works."
Another expert, Dr. Lon Schneider, director of the University of Southern California Alzheimer's Disease Research and Clinical Center in Los Angeles and author of an accompanying journal editorial, added that "there were no positive results from this trial for ginkgo."
Schneider noted that people who take part in these trials tend to be healthier, so while supplements like ginkgo don't have a benefit, living a healthy lifestyle may be the key to preventing or delaying dementia.
This trial should end the debate about ginkgo, Schneider said. "People who are taking ginkgo with the idea that it might prevent Alzheimer's disease and dementia should not think so anymore," he said. "But it's curious the tenacity by which some people hold on to the belief that this is helpful."
More information
For more about Alzheimer's disease, visit the Alzheimer's Association.
© 2018 HealthDay. All rights reserved.
Posted: September 2012