Gene Mutation Changed Cheetah's Spots to Stripes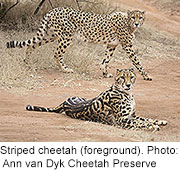 THURSDAY, Sept. 20 -- The genetic secret behind a rare, striped cheetah found only in sub-Saharan Africa has been uncovered by U.S. researchers.
Feral cats in northern California played a key role in the study, which researchers say is the first to identify a molecular basis of coat patterning in mammals.
The study found that the feral cats and cheetahs share a biological mechanism for both the stripes on tabby cats and the cheetah's normally spotted coat. Disruption of this pathway leads to dramatic changes in the small and big cats' normal coat patterning. The domestic cat has swirled patches of color instead of orderly stripes and the cheetah has thick, dark lines down its back instead of its normal spots.
"Mutation of a single gene causes stripes to become blotches, and spots to become stripes," Dr. Greg Barsh, an emeritus professor of genetics and of pediatrics at Stanford University, said in a university news release.
The study appears Sept. 21 in the journal Science.
The coat differences between striped and spotted cheetahs are so pronounced that biologists at first thought that they belonged to two separate species. The striped cheetahs were called king cheetahs.
"We were motivated by a basic question," Barsh said. "How do periodic patterns like stripes and spots in mammals arise? What generates them? How are they maintained? What is their biological and evolutionary significance? It's kind of surprising how little is known. Until now, there's been no obvious biological explanation for cheetah spots or the stripes on tigers, zebras or even the ordinary house cat."
More information
The Cheetah Conservation Fund has more about cheetahs.
© 2018 HealthDay. All rights reserved.
Posted: September 2012