Gene Alteration May Affect Breast Cancer Therapy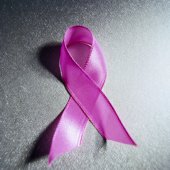 TUESDAY, April 28 -- Certain gene alterations improve breast cancer patients' response to anthracycline therapy, Canadian researchers say.
They found that women with tumors that carried topoisomerase II alpha (TOP2A) gene alterations had 65 percent better relapse-free survival and 67 percent better overall survival when treated with an anthracycline-containing regimen (cyclophosphamide, epirubicin and 5-fluorouracil [CEF]) than when treated with a non-anthracycline-containing regimen (cyclophosphamide, methotrexate and 5-fluorouracil [CMF]).
Women whose tumors were TOP2A-normal, however, had a similar response to both therapies.
The increased responsiveness to CEF seen in women with TOP2A gene alterations is similar to that seen in breast cancer patients with an amplification of the HER2 gene, said Dr. Kathleen I. Pritchard, of the University of Toronto, and colleagues. The study was too small to determine whether the effect of TOP2A alterations was independent of HER2, they said.
Because women whose tumors are normal for TOP2A and HER2 do not appear to benefit from anthracycline-based treatment, they can be treated with less toxic regimens, such as CMF, the researchers said.
The study was published online Tuesday in the Journal of the National Cancer Institute.
More information
The U.S. National Cancer Institute has more about breast cancer.
© 2018 HealthDay. All rights reserved.
Posted: April 2009