First U.S. Face Transplant Recipient Recounts Ordeal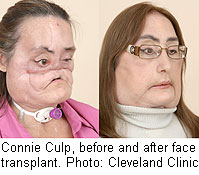 WEDNESDAY, May 6 --The recipient of the first face transplant done in the United States has stepped forward to reveal the results of her surgery.
Connie Culp, a 46-year-old Ohio woman, lost a large part of her face in 2004 when her husband shot her in the face, then turned the gun on himself. He went to prison for seven years. According to the Associated Press, the gunshot destroyed Culp's nose, cheeks, the roof of her mouth and one eye and left hundreds of bone fragments and shotgun pellets lodged in her face. Only her upper eyelids, forehead, lower lip and chin remained. Culp could not breathe without the aid of a tube inserted into her windpipe.
But now a 22-hour face transplant operation -- conducted Dec. 10 and led by Dr. Maria Siemionow of the Cleveland Clinic -- may have given Culp a new lease on life.
Her expressions are still a bit wooden, and her face has a bulky, squarish look. But doctors say subsequent operations -- performed once her circulation and nerves begin to grow -- should improve her appearance further.
"I guess I'm the one you came to see today," Culp, a mother of two and grandmother of two preschoolers, said Tuesday at a news conference at the Cleveland Clinic. Now able to talk, smile, smell and taste food, Culp said that it's "more important that you focus on the donor family that made it so I could have this person's face."
No information is being released about the female donor and how she died, but Culp said the deceased woman's family were moved when they viewed before-and-after pictures of Culp's transformation.
The face transplant was the fourth performed in the world (the first was for a French woman, Isabelle Dinoire, in 2005) and the most extensive ever performed, according to the AP.
Culp's identity and the nature of her injuries had been kept secret until the news conference.
The December face transplant was the largest of 30 operations she'd had to repair the damage, the AP reported. For example, doctors had used portions of her ribs to make new cheekbones and had created an upper jaw from one of her leg bones. Culp also received numerous skin grafts from her thighs.
But the face transplant was the greatest step toward a new face. During the operation, surgeons replaced 80 percent of Culp's face with muscles, nerves, skin and blood vessels from the unnamed donor.
"There was really an entire mid-face missing, and there was no way to reconstruct with conventional means," Siemionow said during an interview Wednesday on NBC's Today show.
Culp left the Cleveland Clinic hospital Feb. 5 and returns periodically for follow-up care. She has had only one tissue-rejection episode, described as mild and under control with a single dose of steroid medications. She must take immunosuppressive drugs for the rest of her life to ward off rejection, however.
Recounting how she heard a child call her a "monster" before her surgery, Culp said she hopes her experience will foster better acceptance of people disfigured by injury.
"When somebody has a disfigurement and don't look as pretty as you do, don't judge them because you never know what happened to them," she said. "Don't judge people who don't look the same as you do. Because you never know. One day it might be all taken away."
Culp's surgery was not the only transplant procedure to make headlines this week. On Monday, 57-year-old Jeff Kepner, of Augusta, Ga., underwent nearly nine hours of surgery at the University of Pittsburgh Medical Center to replace both his hands -- the first double hand transplant performed in the United States.
According to the AP, the surgery on Kepner, who lost both his hands and feet a decade ago, involved a new technique, developed at the medical center, called the Pittsburgh Protocol. The strategy reduces the amount of toxic immunosuppressive drugs typically needed for major transplant operations.
So far, eight double hand transplants have been performed abroad. The first single hand transplant in the United States was done in 1999 on a New Jersey man who lost his hand in a firecracker accident.
© 2018 HealthDay. All rights reserved.
Posted: May 2009