Fewer Shots Could Still Protect Kids From Pneumonia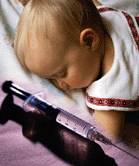 TUESDAY, July 7 -- Parents and babies alike will be relieved by new findings that show a reduced-dose schedule for the pneumococcal vaccine can protect infants against pneumonia and other infections.
The current recommended dose schedule for 7-valent pneumococcal conjugate vaccine (PCV-7) consists of three primary doses before the age of 6 months, followed by a booster vaccination in the second year of life (3 + 1-dose schedule). But factors such as questions about the cost-effectiveness of the current PCV-7 dose schedule have led researchers to examine reduced-dose vaccine schedules, according to background information in the study.
The researchers, Dr. Elske J.M. van Gils, of the University Medical Center Utrecht in the Netherlands, and colleagues, studied 1,003 healthy infants who were randomly assigned to receive two doses of PCV-7 at 2 months and 4 months of age, or a 2 + 1-dose schedule at 2, 4 and 11 months of age, or no vaccine (control group). The children were checked after 12 months, 18 months and 24 months for pneumococcal microorganisms in the upper part of the throat behind the nose.
Compared to those in the control group, children in both vaccine groups had far lower rates of microorganisms that can cause pneumonia and other infections, according to the report in the July 8 issue of the Journal of the American Medical Association.
"In conclusion, both two-dose and 2 + 1-dose schedules of PCV-7 significantly reduce vaccine serotype pneumococcal carriage in children. This study supports future implementation of reduced-dose PCV-7 schedules," the researchers concluded.
More information
The Nemours Foundation has more about children and pneumonia.
© 2018 HealthDay. All rights reserved.
Posted: July 2009