Fewer Heart Surgeries Needed as Technology Improves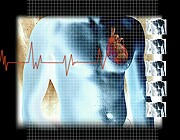 FRIDAY, May 8 -- Over the last decade, advances in heart surgery and improved heart disease prevention methods have resulted in a large decline in the number of patients in the United States having coronary artery bypass graft surgery, a new study finds.
Rates of bypass surgery steadily increased between the late 1980s and 1997, but have fallen by more than one-third since then. Open-chest surgery is increasingly being replaced by less invasive coronary interventions and being made unnecessary by advances in medications that fight the build-up of artery-clogging plaque, the researchers said.
"This is good news. Advances in technology and prevention are paying off, and fewer patients are having to undergo invasive surgeries," Dr. Mohammad Reza Movahed, an associate professor of medicine at the University of Arizona College of Medicine, and an interventional cardiologist and medical director of the Heart Transplant Program at the Southern Arizona Veterans Affairs Health Care System, said in a news release issued by the Society for Cardiovascular Angiography and Interventions (SCAI).
For their study, the researchers analyzed National Inpatient Sample data on more than 1.1 million patients who had bypass surgery between 1988 and 2004. Rates of bypass surgery gradually increased from 79.29 per 100,000 in 1988 to their peak of 131.31 per 100,000 in 1997. By 2004, the rate was 83.01 per 100,000, they found. The decline in bypass surgery was seen in both men and women and across various ethnicities.
"I think this trend will continue. Future advances in technology will lead to a further decline in the rate of bypass surgery," Movahed said.
The study was presented Friday at the SCAI's annual scientific sessions, in Las Vegas.
More information
The U.S. National Heart, Lung, and Blood Institute has more about coronary artery bypass graft surgery.
© 2018 HealthDay. All rights reserved.
Posted: May 2009