Fertility Drugs Do Not Increase Ovarian Cancer Risk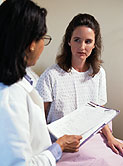 FRIDAY, Feb. 6 -- Women who take fertility drugs do not have an increased risk of developing ovarian cancer, according to a large study by Danish researchers.
There's been ongoing debate about whether fertility drugs boost the likelihood of ovarian cancer. Previous studies have yielded conflicting findings, and concerns endure, especially for women who undergo several cycles of fertility drug treatment or those who never become pregnant.
In the new study, Danish Cancer Society researchers analyzed data from 54,362 women referred to fertility clinics between 1963 and 1998. Of those women, 156 developed ovarian cancer. The researchers adjusted for several risk factors and then assessed the effect of four groups of fertility drugs over an average period of 16 years.
The study found no overall increased risk for ovarian cancer after the use of any fertility drug. It also found no increased risk among women who had 10 or more cycles of fertility drug treatment or among women who never became pregnant.
The researchers did note a statistically significant increase in the risk of the most serious type of ovarian cancer among women who took the fertility drug clomiphene but indicated they believe this was a chance association.
The study was published online Feb. 6 in BMJ.
Many of the women in the study had not reached the peak age for ovarian cancer, so the researchers plan to continue to monitor their risk.
Penelope Webb, a research fellow at the Queensland Institute of Medical Research in Australia, wrote in an accompanying editorial that the findings are reassuring and provide further evidence that the use of fertility drugs does not increase the risk of ovarian cancer.
© 2018 HealthDay. All rights reserved.
Posted: February 2009