FDA Restricts Access to Avandia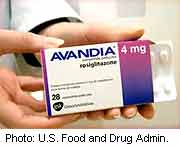 THURSDAY, Sept. 23 -- In response to major concerns about heart risks, U.S. health officials on Thursday severely restricted use of the diabetes drug rosiglitazone (Avandia) to patients with type 2 diabetes who cannot control their disease on other medications.
U.S. Food and Drug Administration officials also ordered the drug's manufacturer, GlaxoSmithKline, to get an independent review of a key company-run trial of the drug's heart effects. And they pulled the plug on another company-run trial comparing Avandia to its competitor, Actos.
"The FDA is taking this action today to protect patients, after a careful effort to weigh benefits and risks," FDA Commissioner Dr. Margaret A. Hamburg said in a prepared statement. "We are seeking to strike the right balance to support clinical care."
The FDA's actions followed a recommendation in the summer from its advisory panel, which, in a complex series of votes, rejected the option to pull the drug from the market for safety reasons.
The panel found that Avandia does raise the risk of heart attack more than other medications of its kind but should stay on the market with tightened controls.
The safety of the blood-sugar-lowering drug, part of the thiazolidinedione family, has been in question for years.
In 2005, the FDA asked Glaxo to conduct a meta-analysis of all its clinical trials on the drug.
The analysis, which did show a signal of increased risk of heart attack, was submitted to the FDA the following year.
FDA then did its own analysis while a number of other trials came out also showing signals of heart troubles.
In November of 2007, FDA added a boxed warning to the drug saying that there was a potential risk of increased cardiovascular ischemic events with Avandia.
The expert panel focused much of its attention on the results of the highly publicized RECORD (Rosiglitazone Evaluated for Cardiac Outcomes and Regulation of Glycemia in Diabetes), announced in June of 2009. The trial found that Avandia significantly raises the risk of heart failure (and bone fractures) though not cardiovascular disease or death.
It is this trial that FDA officials now want independently reviewed.
Both Avandia and Actos, which is made by Takeda, came with warnings regarding heart failure when they were first approved.
More information
There's more on the thiazolidinedione class of diabetes drugs at the U.S. National Library of Medicine.
© 2018 HealthDay. All rights reserved.
Posted: September 2010