FDA May Ease Rules on Morning-After Pill for Teens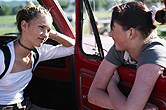 WEDNESDAY, Dec. 7 -- The U.S. Food and Drug Administration is expected to decide Wednesday whether to allow an emergency contraceptive to be sold over-the-counter to teens age 16 and younger.
If the agency approves the proposal from the manufacturer of Plan B, a one-time contraceptive pill, the drug would move from the pharmacists' shelves to drugstore or supermarket aisles, where anyone of any age could buy it without question.
Currently, teens 16 and younger can only buy Plan B, which costs about $50, with a prescription. Teens 17 and older, however, can purchase the so-called morning-after pill without a prescription if they provide proof of age.
Plan B prevents pregnancy if taken within three days after having sex, according to the manufacturer, Israel-based Teva Pharmaceutical Industries Ltd.
"It gives women a second chance to prevent pregnancy," Amy Niemann, vice president of Teva USA Women's Health division, told the Wall Street Journal. "The sooner it's taken the better."
The product prevents implantation of a fertilized egg in a woman's uterus through use of levonorgestrel, a synthetic hormone used for decades in birth control pills. Plan B contains 1.5 milligrams of levonorgestrel, more than "the Pill" contains.
The drug maker insists that Plan B is safe for younger teens and that they should have it available to them as needed. The company submitted a study to the FDA that found girls 11 to 16 years old are capable of following the directions for usage, according to the Journal.
Watson Pharmaceuticals Inc., of Corona, Calif., makes a similar emergency contraceptive called Next Choice, which involves taking two levonorgestrel pills of lower dosage, either together or over a 24-hour period, according to the U.S. National Institutes of Health. Like Plan B, a customer's age determines whether Next Choice can be bought over the counter or by prescription.
Plan B was approved in 1999 as prescription-only. It wasn't until 2006 -- after much heated debate -- that the FDA eased the prescription requirement for older teens.
If Teva's request is granted, it will likely generate an uproar in some quarters, including conservative political and religious groups. Wendy Wright, former president and CEO of Concerned Women for America, a political action group, has cited safety issues associated with oral contraceptives and said young teens without medical supervision and parental awareness could face serious health risks.
Wright also argued that easing access would place a "huge burden" on pharmacists to provide patient counseling.
Safety issues concerning birth control pills have led the FDA to consider requiring new warning labels about increased risk of blood clots with newer forms of oral contraceptives. The concern centers around oral contraceptives such as Bayer's Yaz or Yasmin that contain a newer type of progestin hormone called drospirenone. A decision on the labeling may be made by Friday, the agency said this week.
More information
For more about morning-after pills, visit the U.S. National Library of Medicine.
© 2018 HealthDay. All rights reserved.
Posted: December 2011