Family History Key to Psychiatric Disorder Risk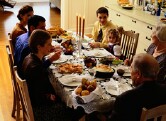 TUESDAY, July 7 -- A person's family history not only reveals their risk for conditions such as anxiety, depression, alcoholism and drug abuse, but it may also predict the course of the illness and prognosis, a new study finds.
The research included 981 residents of Dunedin, New Zealand, who were enrolled at age 3 and followed until they were 32. The researchers also gathered data about the participants' biological parents, grandparents and siblings.
"In general, we found that associations showed a consistent direction of effect across all four disorders: (1) family history was associated with the presence versus absence of disorder for all four disorder types; (2) family history was associated with a recurrent course for all four disorders (but not significantly for women with depression); (3) family history was associated with worse impairment for all four disorders (but not significantly for depression and drug dependence); and (4) family history was associated with greater service use for all four disorders (but not significantly for anxiety disorders)," wrote Barry J. Milne, of the University of Auckland, and colleagues.
They said their findings, published in the July issue of the journal Archives of General Psychiatry, may prove important for researchers studying genetic forms of a disorder and for doctors treating patients with psychiatric disorders.
"From a public health perspective, family history may be useful for determining which patients will have the poorest prognosis," Milne and colleagues wrote.
"For example, among those with depression, anxiety disorder, alcohol dependence and drug dependence, a family history screen may help determine whose illness will recur, whose illness will cause the greatest impairment and who will be the most likely to use treatment resources. Thus, family history may identify a subgroup in need of primary or early intervention and for whom treatments appropriate for recurrent, highly disabling disorder may be needed," the researchers concluded.
More information
The U.S. National Institute of Mental Health has more about anxiety disorders.
Posted: July 2009
Recommended for you