End of Daylight Saving Time Could Be Heart-Wrenching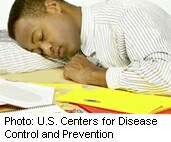 WEDNESDAY, Oct. 29 -- The end of daylight saving time is just about here, and it may pose health problems much more serious than just a lack of rest and increased grumpiness.
Swedish researchers have found a jump in the number of heart attacks following the semi-annual one-hour time changes.
"This was the very first study on this topic and further studies are needed," said Dr. Imre Janszky, of the Karolinska Institute in Stockholm, and co-author of a letter published in the Oct. 30 issue of the New England Journal of Medicine.
"However, we can certainly say that our study adds some further evidence that vulnerable individuals might benefit from avoiding sudden changes in their biological rhythms," Janszky said.
Those vulnerable individuals would include people already sleep deprived, other experts said.
"When somebody has sleep deprivation, obviously that deprivation does affect their health, including the possibility of having heart attack and stroke," said Susan Zafarlotfi, clinical director of the Institute for Sleep-Wake Disorders at Hackensack University Medical Center in New Jersey. "Those patients who do have a higher risk -- such as high cholesterol and, specifically, if they snore -- should be very, very careful with their time to bed and time to rise, not only for the fall back but also across the board."
The end of daylight saving time occurs Sunday, Nov. 2, when clocks are turned back one hour.
"Our circadian rhythm, which is the biological clock within the human body, gets its cues from time and light," Zafarlotfi explained. "This coming Sunday when we go backwards, our bodies are not going to be clocking so quickly, so the clinical consequences would be fatigue, tiredness and a little bit of lack of attention and lack of concentration."
For the new research, the study authors used a registry with information on all heart attacks occurring in Sweden since 1987. Then they compared how many heart attacks happened during each of the first seven days after "spring forward" and "fall back," and the average of how many occurred on the corresponding weekdays two weeks before and two weeks after the day of transition.
There was a spike in heart attacks for the first three weekdays after the change to daylight saving time in the spring, an effect that was more pronounced in women. But, in the fall change, a significant increase was seen only on the first weekday after the transition; this effect was more pronounced in men, the researchers found.
Regardless of the time of year, the effects tended to be stronger for people younger than 65 than for those over 65.
The study authors hypothesized that the increase in risk was likely due to the negative effects of sleep deprivation on heart health.
The next step in the research would be to see if prolonged sleep might reverse the problem, especially given that people in western societies tend to lack sleep. Their average night's rest has decreased from 9 hours to 7.5 hours during the last century.
There's a chance that more sleep might help, given the surprising finding that the highest risk of heart attack in the autumn occurs on Monday, the first workday of the week.
How to Adjust to the Time Change
The one-hour time change can be a big adjustment for many people, but there are ways to minimize the disruption.
Dr. David Rapoport, director of the Sleep Disorders Center at New York University Langone School of Medicine in New York City, has these suggestions for individuals who already have sleep problems:
Go to bed at your regular time and wake up at the new time. "It's money in the bank. You've paid back a debt," Rapoport said.
Don't use the extra hour to work or party. "You will be using this freebie to add to your fun but not pay back your debt," he said.
Move your body into sync with what's happening outside in terms of light. For example, go for a 15-minute walk toward the end of the day while the sun is still out. "Walking facing the sun without sunglasses is an excellent way to push your clock back," Rapoport said. (In the spring, reverse this and take the walk in the morning.)
"In our society, almost everybody is sleep deprived and this is a golden opportunity to catch up on it," Rapoport said.
© 2018 HealthDay. All rights reserved.
Posted: October 2008