Early Life Peanut Consumption Might Prevent Allergy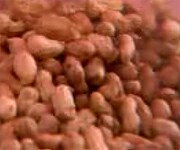 FRIDAY, Nov. 14 -- Eating peanuts early in life may help prevent development of peanut allergy, according to a study that casts doubt on government health recommendations that infants and new mothers shouldn't eat peanuts.
The researchers examined the incidence of peanut allergy in 8,600 Jewish school-age children in the United Kingdom and in Israel. They then compared the results with data on peanut consumption by infants ages four to 24 months.
The prevalence of peanut allergy was 1.85 percent among the U.K. students and 0.17 percent among the Israeli children, said the study, which also found that 69 percent of Israeli children were eating peanuts at nine months of age, compared to only 10 percent of the British children.
"The most obvious difference in the diet of infants in both populations occurs in the introduction of peanut," wrote lead author Dr. George Du Toit and colleagues. But they cautioned that more research is needed before the U.K. and other countries change their guidelines that advise avoidance of peanut consumption during pregnancy, breast-feeding and infancy.
The study was published in the November issue of The Journal of Allergy and Clinical Immunology.
While these findings are promising, they shouldn't prompt any immediate changes, cautioned the American Academy of Allergy, Asthma & Immunology (AAAAI). There are a number of other factors that may explain the differences in peanut allergy prevalence between Israel and the U.K.
"While this study's findings provide optimism for prevention of peanut allergy in the future, randomized, controlled trials are needed to verify that early introduction of peanut is indeed effective," Dr. Jacqueline A. Pongracic, vice chair of the AAAAI's Adverse Reaction to Food Committee, said in an academy news release.
More information
The Nemours Foundation has more about nut and peanut allergy.
© 2018 HealthDay. All rights reserved.
Posted: November 2008