Early Intro to Math Seems to Improve Kids' Skills Later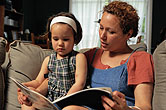 FRIDAY, Nov. 12 -- Talking to young children about numbers can boost their success in math once they're in school, researchers say.
Children whose parents talked more about numbers were much more likely to understand the cardinal number principle -- the size of a set of objects is determined by the last number reached when counting the set, the University of Chicago researchers found.
In the study, the investigators recorded in-home interactions between parents and preschoolers and analyzed the link between parents' talk about numbers and their children's subsequent math performance in school.
"By the time children enter preschool, there are marked individual differences in their mathematical knowledge, as shown by their performance on standardized tests," study leader and psychologist Susan Levine said in a university news release.
She also noted that previous studies have found that a child's level of math knowledge when they begin school predicts future success.
The new findings "suggest that encouraging parents to talk about numbers with their children, and providing them with effective ways to do so, may positively impact children's school achievement," Levine said.
The study was published in a recent issue of the journal Developmental Psychology.
More information
The Ontario Ministry of Education outlines how parents can help their children learn math.
© 2018 HealthDay. All rights reserved.
Posted: November 2010