Drinkers May Exercise More Than Teetotalers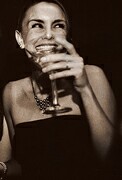 MONDAY, Aug. 31 -- Here's something to toast: Drinkers are often exercisers.
According to a new University of Miami study published in the September/October issue of the American Journal of Health Promotion, the more people drink, the more likely they are to exercise.
"Alcohol users not only exercised more than abstainers, but the differential actually increased with more drinking," said lead author Michael French, a professor of health economics, in a news release issued by the Center for Advancing Health. "There is a strong association between all levels of drinking and both moderate and vigorous physical activity."
In reaching their conclusions, the researchers examined data from participants in the 2005 Behavioral Risk Factor Surveillance System, a yearly telephone survey of about 230,000 Americans.
From a fitness perspective, the findings were positive, the study authors noted. Overall, drinking was associated with a 10 percent increase in the likelihood of engaging in vigorous physical activity. For women, those who imbibed exercised 7.2 minutes more per week than teetotalers. The results applied equally to men.
French was careful to caution against overdrinking. The negative consequences of heavy drinking may outweigh the benefits of more exercise, he added. Heavy alcohol consumption has been associated with numerous serious health problems, especially cancer, heart disease and cirrhosis of the liver.
"While those who are at risk for problem drinking should minimize or curtail their consumption of alcohol, light to moderate drinking may be health-enhancing for some people," said French. "If responsible drinkers are using exercise to partially counteract the caloric intake from alcohol, that is not such a bad thing."
More information
For more on the pros and cons of drinking, see the U.S. National Institutes of Health.
© 2018 HealthDay. All rights reserved.
Posted: August 2009