Don't Get Lazy About Lawn-Mower Safety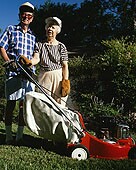 SATURDAY, June 20 -- Mowing the lawn is such a common summertime activity that many people forget that their lawn mower can cause serious injuries, experts warn.
Each year in the United States, about 200,000 people (including 16,000 children) are injured in lawn mower-related accidents, according to the U.S. Consumer Product Safety Commission. Those injuries include severed fingers, toes and limbs, broken bones, eye damage and burns.
"In 19 years of practice as a plastic surgeon and microsurgeon, some of the most devastating and disabling injuries I've treated are from lawn-mower accidents," Dr. William Zamboni, president of the American Society for Reconstructive Microsurgery, said in a news release from the American Academy of Pediatrics. "It's especially concerning when children are injured since most of these injuries are preventable."
A group of medical societies, including the American Society for Reconstructive Microsurgery, the American Academy of Pediatrics, the American Academy of Orthopaedic Surgeons, the American Society of Maxillofacial Surgeons and the American Society of Plastic Surgeons, offers the following lawn-mower safety tips:
Do not permit children under 12 years of age to operate any lawn mower and don't allow anyone under 16 to use a ride-on mower.
Do not allow children to be passengers on ride-on mowers.
Keep young children at a safe distance from the area being mowed.
Don't wear sandals when mowing. Wear sturdy shoes.
Remove debris, such as toys and stones, from the lawn before mowing in order to prevent injuries from flying objects.
Wear eye protection and hearing protection.
If possible, use a mower that stops moving forward when you release the handle.
Avoid mowing in reverse. If it is necessary to pull the mower backwards, always check behind you first.
Never start the mower in the garage. Also, refuel outdoors with the motor turned off and while the engine is cool.
Don't allow youngsters to adjust mower blade settings.
Wait for mower blades to stop completely before detaching the grass catcher, clearing the discharge chute or crossing gravel roads/driveways.
More information
The Canada Safety Council offers lawn-mower safety tips.
© 2018 HealthDay. All rights reserved.
Posted: June 2009