Domestic Animals Owe Varied Coats to Humans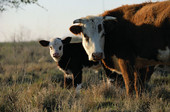 FRIDAY, Jan. 16 -- The coat colors and patterns of wild and domestic animals are different primarily because of human intervention over thousands of years, a new study suggests.
A particular gene -- the melanocortin-1 receptor (MC1R) gene -- plays a key role in the appearance of animals' coats. British researchers studying this gene in wild and domestic pigs found that nearly all DNA mutations in the farm animals changed the protein that affects coat color and pattern.
Some of the mutations were consecutive, or layered, indicating they had been perpetuated by farmers over thousands of years, the researchers said.
The mutations affecting the coat were not found in the wild pigs, which had a consistent black-brown coloring that acts as camouflage. Predators, the researchers believe, may have helped weed out any pigs with mutations that made them stand out in appearance.
"Early farmers may have decided to change the coat of their livestock for a number of reasons," study co-author Greger Larson, a research fellow in the department of archaeology at Durham University in England, said in a news release issued by the school. "One is that it facilitated animal husbandry since it is easier to keep track of livestock that are not camouflaged. Another could be that it has acted as a metaphor for the improved characteristics of the early forms of livestock compared with their wild ancestors."
But another possibility, Larson said, "is that the early farmers were as amused and as taken with biological novelty and diversity as we are today."
The study, done in conjunction with Uppsala University in Sweden, appears online in PLoS Genetics.
More information
The U.S. National Library of Medicine has more about gene mutations.
SOURCE: Durham University, news release, Jan. 15, 2009
© 2018 HealthDay. All rights reserved.
Posted: January 2009