Death From Accidental Injuries Among Kids Drops 30%: CDC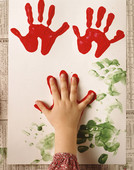 MONDAY, April 16 -- Death rates from accidental injuries among children and teens fell by nearly 30 percent in the United States between 2000 and 2009, a new government report shows.
The decrease in injury death rates resulted in more than 11,000 young lives being saved during that time, according to researchers from the U.S. Centers for Disease Control and Prevention. Even so, more than 9,000 youngsters under the age of 19 lost their lives due to accidental injuries in 2009, the Vital Signs report said.
"As promising as the results of the CDC report are, parents and pediatricians need to work to prevent each and every injury to children," said one expert, Dr. Estevan Garcia, director of pediatric emergency medicine at Maimonides Medical Center in New York City.
Motor vehicle crashes remain the most common cause of deaths from accidental injury, the CDC said. Other leading causes included suffocation, drowning, poisoning, fires and falls.
According to the new report, death rates from motor vehicle crashes fell 41 percent from 2000 to 2009, due to factors such as improvements in child safety and booster seat use and graduated licensing systems for teen drivers, the report found.
The report noted that suffocation rates are on the rise, with a 54 percent increase in suffocations among infants less than 1 year old. And poisoning deaths rose, with a 91 percent increase seen among teens aged 15 to 19, largely due to prescription drug overdose.
The increase in suffocation deaths among infants could be curbed by following the American Academy of Pediatrics' safe infant sleeping environment guidelines, which recommend that infants sleep in safe cribs, alone and on their backs, with no loose bedding or soft toys.
CDC research indicates that prescription drug overdose deaths among teens could be reduced through appropriate prescribing; proper storage and disposal; discouraging medication sharing; and state-based prescription drug monitoring programs.
The report said child injury death rates varied substantially by state in 2009, ranging from less than five deaths per 100,000 children in Massachusetts and New Jersey to more than 23 deaths per 100,000 children in South Dakota and Mississippi.
"Every four seconds, a child is treated for an injury in the emergency department, and every hour a child dies as a result of an injury," Linda Degutis, director of CDC's National Center for Injury Prevention and Control, said in an agency news release.
"Child injury remains a serious problem in which everyone -- including parents, state health officials, health care providers, government and community groups -- has a critical role to play to protect and save the lives of our young people," she noted in the release.
For his part, Garcia said that the decline in deaths is "encouraging" but should only be seen as a beginning.
"These injuries are devastating to families and are preventable," he said. "While national trends are important, it is also vitally important for parents to understand their risks and to work with their pediatricians to identify and reduce these risks. Safety should begin at home by making sure you have working smoke alarms and are keeping medicines and cleaning products locked away."
Garcia also stressed that accidental drowning of children can happen even in small spaces such as bathtubs, so monitoring is always a must. Helmets are also essential when riding bikes or scooters, he said.
In conjunction with the report, the CDC and more than 60 partner groups are releasing a National Action Plan on Child Injury Prevention. Its general goals are to:
Boost awareness about the problem of child injury and its effects on the nation.
Highlight prevention solutions by adopting a common set of goals and strategies.
Push for a national, coordinated effort to reduce child injury.
More information
Safe Kids offers parents tips for keeping children safe.
© 2018 HealthDay. All rights reserved.
Posted: April 2012