Cyclosporine Eye Drops a Good Deal for Dry Eye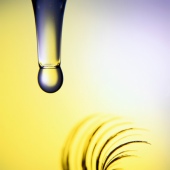 TUESDAY, Feb. 10 -- Eye drops that contain the immunosuppressant drug cyclosporine may be a cost-effective treatment for dry eye syndrome that doesn't respond to other therapies, a new study suggests.
Dry eye occurs in 15 percent to 34 percent of older people, according to background information in the study. Cyclosporine is used to treat arthritis and psoriasis, and to reduce organ transplant rejections.
"Patients with dry eye syndrome have more difficulty reading, carrying out professional work, using a computer, watching television and driving compared with those without dry eyes," wrote Dr. Melissa M. Brown, of the Center for Value-Based Medicine and the University of Pennsylvania School of Medicine, and colleagues.
The researchers gave eye drops containing a 0.5 percent emulsion of cyclosporine to patients with moderate to severe dry eye syndrome that didn't respond to conventional therapy. In terms of quality of life, the cyclosporine drops offered 4.3 percent more improvement than eye drops containing only lubricant and 7.1 percent more improvement than no treatment.
The total direct medical cost of the cyclosporine eye drops was $1,834. However, 24.5 percent of treated workers will return to full productivity, which means there's an estimated $1,236 gain associated with treatment, reducing the net cost to $598, the researchers calculated.
The cost to society for treatment with the cyclosporine eye drops was $34,953 more per quality-adjusted life year (a combination of quality and quantity of life) than the lubricant eye drops alone. That's well below the conventional standard of $50,000 per quality-adjusted life year widely considered to be cost-effective, Brown and colleagues said.
The study, which received funding from Allergan Inc., was published in the February issue of the Archives of Ophthalmology.
More information
The MedlinePlus Medical Encyclopedia has more about dry eye.
© 2018 HealthDay. All rights reserved.
Posted: February 2009