A Drug to Cure Spinal Cord Injuries?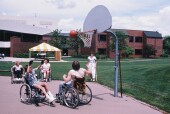 THURSDAY, Oct. 15 -- Researchers have identified a potential target for drug treatment of spinal cord injuries.
Cells in spinal cord scar tissue release molecules that prevent severed nerve fibers from passing the damaged area and making new connections that would restore feeling and movement.
In the new study, researchers identified where these molecules -- chondroitin sulfate proteoglycans (CSPGs) -- bind to the surface of neurons. This location may offer a target for drug therapy.
Scientists have been searching for this "docking station" for nearly two decades. It was known that CSPGs inhibit regeneration of nerve fibers, but it wasn't known how the molecules did it, explained senior study author John Flanagan, a professor at Harvard Medical School in Boston, in a Harvard news release.
Now that the site where CSPGs bind to neurons is identified, researchers can begin looking for molecules that will block this docking station and other ways to disrupt it.
"This discovery suggests that we might be able to treat central nervous system injuries with a pill in the future. In reality, we'll probably need a drug cocktail because CSPGs are not the only barrier to regeneration," study co-author Jerry Silver, a professor at Case Western Reserve University, said in the news release.
The study was published Oct. 15 in the journal Science.
More information
The U.S. National Institute of Neurological Disorders and Stroke has more about spinal cord injury.
© 2018 HealthDay. All rights reserved.
Posted: October 2009