Could Chemicals in Wine Improve Stent Performance?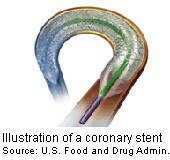 FRIDAY, April 29 -- A new study in rats suggests that coating stents with two chemicals found in red wine may help them do a better job of propping open arteries after angioplasty.
Stents are designed to keep blood vessels open and unclogged, and they now come coated with medications designed to prevent clots. But the medications can cause problems in the vessels and even lead to blood clots in rare cases.
Researchers from Louisiana State University coated stents with two chemicals, resveratrol and quercetin, that are found in red wine. They then inserted the stents into the arteries of rats.
The researchers found that the treated stents blocked the narrowing of blood vessels and led to less inflammation in the four weeks after they were inserted into the rats.
The study looks promising, said Alzheimer's disease researcher Philippe Marambaud, who studies resveratrol. "There's overwhelming evidence that this compound has very powerful properties," he said. Marambaud is an assistant professor at the Feinstein Institute for Medical Research in Manhasset, N.Y.
Dr. Gregg Fonarow, a professor and director of the Ahmanson-UCLA Cardiomyopathy Center at the University of California, Los Angeles, described the research as intriguing. But he cautioned that because "this is a preliminary study in an animal model, much more research and large-scale clinical trials would be needed" to determine whether the coated stents have value as a treatment for people.
The study was to be presented Friday at an American Heart Association conference in Chicago.
More information
The U.S. National Heart, Lung, and Blood Institute has more on stents.
© 2018 HealthDay. All rights reserved.
Posted: April 2011