Conflicts of Interest Still Exist in Cancer Research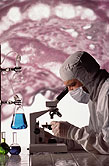 MONDAY, May 11 -- A recent analysis of major medical journals has found many potential conflicts of interest between researchers and medical industry companies, raising concern that investigators may at least be tempted to report favorable results to help the financial backers of their work.
The analysis, to be published in the June 15 issue of Cancer and headed by the University of Michigan, looked at more than 1,500 cancer studies published in eight authoritative journals, including Cancer, the New England Journal of Medicine and the Lancet, during a recent year and found:
Randomized clinical trials that assessed patient survival were more likely to link a survival advantage to the medical treatment being studied when a conflict of interest was present.
These trials, the authors noted, are how drugs, technologies, procedures and so on eventually get approved for use in medical practices.
Apparent conflicts of interest (such as industry funding, consulting fees to authors and co-authorship by industry employees) found simply by reviewing the authorship credits were noted in 29 percent of studies, while 17 percent actually declared industry funding.
Industry-funded studies focused on treatment in 62 percent of cases, whereas only 36 percent of studies done without industry funding focused on treatment.
While 47 percent of studies done without industry funding looked at epidemiology, prevention, risk factors, screening or diagnostic methods, only 20 percent of industry-funded studies focused on these areas.
Researchers are often required to disclose potential conflicts of interest to medical journals when they submit articles, but the lines can get blurry. While taking a consulting fee or holding a job in the companies whose products they are evaluating is an obvious potential conflict of interest, some researchers may knowingly or unknowingly hold stock in the companies, for example.
As a result, the authors of the analysis wrote that "attempts to disentangle the cancer research effort from industry merit further attention, and journals should embrace both rigorous standards of disclosure and heightened scrutiny when conflicts exist."
More information
The U.S. National Cancer Institute has more about cancer.
© 2018 HealthDay. All rights reserved.
Posted: May 2009