Drug Companies Say No Cold Meds for Kids Under 4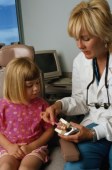 TUESDAY, Oct. 7 -- Saying they were acting "out of an abundance of caution," the makers of over-the-counter cough and cold medicines said Tuesday that the medicines should not be given to children younger than 4 years old.
Use of the over-the-counter (OTC) medicines has been controversial, with pediatricians criticizing the marketing of the remedies for children under 6, citing reports of safety problems -- even deaths -- and a lack of evidence that they work.
In announcing the new guidelines, Linda Suydam, president of the Consumer Healthcare Products Association, said they "reflect industry's overall commitment to the continued safe and appropriate use of children's oral OTC cough and cold medicines," the Associated Press reported.
Companies were voluntarily making the change "out of an abundance of caution," she said. The association represents leading manufacturers and distributors of nonprescription, over-the-counter medicines and nutritional supplements.
The new instructions will appear on products distributed for the coming cold season, Suydam said. Companies will also add a warning to their product labels saying parents should not give young children allergy-relieving antihistamines to make them sleepy, the AP said.
Pediatricians welcomed Tuesday's announcement by the OTC industry, the news service said.
"It's a huge step forward," said Dr. Joshua Sharfstein, Baltimore's health commissioner and a leader in the push to stop marketing the medicines for young children. "There is no evidence that these products work in kids, and there is definitely evidence of serious side effects."
Earlier this month, the U.S. Food and Drug Administration held a public hearing on the use of OTC cold medicines for children between 2 and 6 years old. But the agency put off a decision on whether they were safe, saying more data was needed.
Dr. John Jenkins, heads the FDA's Office of New Drugs, said agency officials were also concerned that an immediate ban, supported by leading pediatricians' groups, might cause parents to give adult medicines to their children.
"We do not want to do something that we think will have a positive impact, only to have an unintended negative," Jenkins said at the hearing, the AP reported. "That could be an even worse situation."
Back in January, the FDA issued an updated health advisory that cough and cold preparations not be used to treat children under the age of 2 because of possible life-threatening complications. These products include decongestants, expectorants, antihistamines and cough suppressants.
Just prior to that advisory, the makers of cough and cold remedies marketed for infants voluntarily recalled the products.
Despite scant evidence that such remedies are actually effective in children, or adults, an estimated 10 percent of American kids take one or more cough and cold medications during a given week.
Yet the preparations can do more harm than good, research suggests.
An FDA review of records filed with the agency between 1969 and September 2006 found 54 reports of deaths in children associated with decongestant medicines made with pseudoephedrine, phenylephrine or ephedrine. It also found 69 reports of deaths associated with antihistamine medicines containing diphenhydramine, brompheniramine or chlorpheniramine. Most of the deaths involved children younger than 2.
And the U.S. Centers for Disease Control and Prevention reported that some 7,000 American children under the age of 11 are treated each year in hospital emergency rooms because of problems with cough and cold medications.
According to Dr. Michael Spigarelli, an assistant professor of pediatrics and internal medicine at Cincinnati Children's Hospital, the recent debate originally stemmed from a citizens petition by a group of pediatricians who felt that cough and cold medicines were unsafe -- or at least never proven to be safe. This led to the FDA's statement earlier this year regarding young children.
More information
Visit the FDA for more on its recommendation regarding over-the-counter cough and cold medications for young children.
© 2017 HealthDay. All rights reserved.
Posted: October 2008
Recommended for you