Combo Therapy May Help Ease Sleep Apnea at High Altitude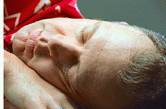 TUESDAY, Dec. 11 -- Combination therapy reduces sleep apnea symptoms when patients are at higher altitudes, according to a new study.
When people with the sleep disorder known as obstructive sleep apnea travel to mountains or other high-altitude areas, they may experience abnormally low levels of oxygen in the blood and a worsening of their symptoms, according to background information in the article.
In this preliminary study, Swiss researchers examined whether combination therapy with the drug acetazolamide (Diamox) and continuous positive airway pressure (CPAP) could benefit people with sleep apnea. People with the condition experience disrupted breathing during sleep.
Acetazolamide is a respiratory stimulant used to treat acute mountain sickness and high-altitude-related breathing problems. CPAP involves the use of a machine that provides constant air pressure to keep airways open while people sleep.
The 51 patients in the study, published in the Dec. 12 issue of the Journal of the American Medical Association, normally lived below an altitude of about 2,600 feet. The combination therapy was tested when they were in mountain villages at about 5,300 feet and 8,500 feet.
The combined treatment with acetazolamide and CPAP led to improved levels of oxygen in the blood when patients were awake and sleeping, and better control of sleep apnea; it also reduced the amount of time spent awake during the night, compared with CPAP alone.
The findings provide important information for sleep apnea patients planning to stay at higher altitudes, the researchers said in a journal news release.
More information
The U.S. National Heart, Lung, and Blood Institute has more about sleep apnea.
© 2018 HealthDay. All rights reserved.
Posted: December 2012