Combo Therapy Helps Multiple Myeloma Patients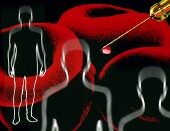 FRIDAY, Dec. 12 -- A new combination of medicines designed to boost immune function can help some multiple myeloma patients, according to interim results from an ongoing Mayo Clinic study.
The researchers found that combining a new immunomodulatory drug called pomalidomide with dexamethasone (pom/dex) improved or stabilized disease in 76 percent of multiple myeloma patients who'd relapsed after previous treatment.
Multiple myeloma, a cancer that begins in white blood cells called plasma cells, affects about three in 100,000 people per year. There is no cure, but the disease can be managed. Immunomodulatory drugs interfere with cancer cell growth and stimulate the immune system to attack cancer cells.
The Mayo study began in November 2007 and has enrolled 60 patients, who took 2 milligrams of pomalidomide orally a day for a 28-day cycle and 40 mg of dexamethasone orally on days 1, 8, 15 and 22. They also took 325 mg of aspirin daily to prevent blood clots, a potential problem for patients taking immunomodulatory drugs.
Of the 60 patients, 58 percent have responded to therapy with at least a 50 percent decrease in detectable tumor burden as measured by blood protein levels, a marker for myeloma. This includes one patient who achieved complete remission, 14 patients who achieved at least a 90 percent decrease in blood proteins and 11 patients who remained stable.
"These are high remission rates, and they happened quickly," lead researcher and hematologist Dr. Martha Lacy said in a Mayo news release.
Side effects included anemia and declines in blood counts. In most patients, these side effects were mild.
Pomalidomide, also called CC-4047, belongs to the same class of immunomodulatory drugs as thalidomide and lenalidomide, both of which have been approved by the U.S. Food and Drug Administration for use with dexamethasone for multiple myeloma patients who've had previous treatment.
The Mayo researchers found that pom/dex was helpful in 29 percent of patients who didn't respond to lenalidomide.
The interim results of the study, funded by Celgene, were presented at the annual meeting of the American Society of Hematology.
"We are excited about the potential of this drug combination to significantly help patients with myeloma. Based on these encouraging results, we are expanding the study to include other patient populations that may benefit from this therapy," Lacy said.
© 2018 HealthDay. All rights reserved.
Posted: December 2008