Combo Treatment May Ease Depression After Stroke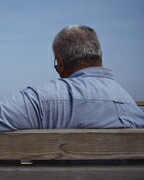 THURSDAY, Aug. 6 -- Adding psychosocial therapy to treatment with antidepressants helps improve depression and recovery in people who've had a stroke, a new study suggests.
"One-third of patients who have strokes develop clinical depression, which makes them less able to recover from the stroke, worsens cognitive functioning, impairs social functioning and is associated with other adverse consequences," study co-author Dr. Richard C. Veith, a professor of psychiatry and behavioral sciences at the University of Washington School of Medicine in Seattle, said in a news release from the American Heart Association.
Development of depression after a stroke "is an important public health problem," Veith said.
The study involved 101 people who'd had a stroke and had been diagnosed with clinical depression. The researchers found that eight weeks of the combined treatment resulted in a 47 percent decrease in scores on standardized scales that rate depression, compared with a 32 percent decrease among people who had received usual care, which included taking antidepressants.
People with improved depression perceived their stroke recovery as significantly greater and also felt that their physical condition and social participation were better, compared with those who'd achieved less improvement in depression, the study found.
Results of the study are published Aug. 6 in the online edition of the journal Stroke.
The psychosocial therapy used in the study was conducted by nurses who did nine one-on-one sessions with patients in an eight-week span. The sessions covered such things as how to increase pleasant events, problem solving, caregiver support and identifying and modifying negative thoughts.
More information
The U.S. National Institute of Neurological Disorders and Stroke has more about post-stroke rehabilitation.
© 2018 HealthDay. All rights reserved.
Posted: August 2009