Co-Opting Technology for the Sake of Weight Loss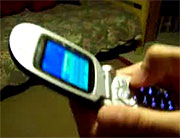 TUESDAY, Dec. 7 -- Might technologies and gadgets so popular with today's young adults be corralled to help them lose weight?
Two agencies at the U.S. National Institutes of Health hope to find out.
The agencies are co-funding seven clinical trials that will examine how to use text messaging, online social networking, Bluetooth-enabled scales and other technology to help young people control their weight and, in the process, protect their hearts.
"These studies have the potential to teach us about successfully engaging young adults in achieving a healthy weight at a critical time in their lives," Dr. Susan B. Shurin, acting director of the National Heart, Lung and Blood Institute, one of the sponsoring agencies, said in an institute news release. The other is the National Institute of Child Health and Human Development.
"Learning effective strategies for weight management further empowers young adults to protect their future heart health," she said. "These studies are designed to provide evidence to help us guide young adults toward approaches that work and allow them to choose the options that work best for them."
The approaches being tested in the trials include:
The use of iPod Touch, webinars and podcasts to deliver a behavioral weight-loss program to young adults trying to quit smoking.
Internet-based programs to promote the health of pregnant women and new mothers.
A for-credit course that includes Web-based social networking to prevent weight gain in college students.
The use of text message reminders and wearable exercise monitors to improve a weight-loss program.
Behavioral intervention using cell phones, Facebook and the Internet.
The studies, called the Early Adult Reduction of Weight Through Lifestyle Intervention trials, will include participants 18 to 35 years old and will focus on promoting weight management through healthy eating and physical activity. The two agencies have pledged $36 million in funding over five years.
All seven trials are expected to start enrolling volunteers by next spring.
"Comparing findings and pooling data from all seven studies will maximize what the research community learns about developing strategies to address weight control among young adults," Catherine Loria, a nutritional epidemiologist in the Heart, Lung and Blood Institute's cardiovascular sciences division, said in the news release.
More information
The U.S. National Heart, Lung and Blood Institute has more about healthy weight.
© 2018 HealthDay. All rights reserved.
Posted: December 2010