Clues to Muscular Dystrophy Seen in Womb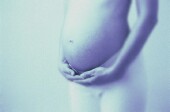 WEDNESDAY, June 17 -- English scientists may have found a way to detect muscular dystrophy in the womb or shortly after birth, giving doctors more time to treat the disease before symptoms develop.
Focusing on key proteins, University of Birmingham researchers detected disrupted stem-cell function and delays of skeletal-muscle formation in the embryos of specially bred mice. The scientists found a close relationship between the severity of abnormalities and the severity of later symptoms seen in two forms of the disease, Duchenne muscular dystrophy (DMD) and the milder limb-girdle muscular dystrophy.
Their findings were reported in the July/August issue of the journal Disease Models & Mechanisms.
Although more work needs to be done, researchers were confident that their findings had the potential to improve life for children with muscular dystrophy, a group of incurable, hereditary diseases that progressively weaken muscles and other body systems.
Most patients with DMD, the most common and severe form, are wheelchair-bound by age 11 and die between their teens and early 30s. Untreated children die earlier, usually the result of heart and respiratory muscle failure.
Most patients are diagnosed between the ages of 3 and 5, when the disease is already well-established.
The hope is that an earlier diagnosis -- even before birth -- may lead to significantly longer and better life, the study said.
More information
The Muscular Dystrophy Association offers comprehensive information on the disease, treatments and support for patients and families.
© 2018 HealthDay. All rights reserved.
Posted: June 2009