CDC Launches Graphic Anti-Smoking Campaign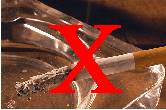 THURSDAY, March 15 -- A new anti-smoking campaign using graphic images and smokers' horror stories will be launched next week, the U.S. Centers for Disease Control and Prevention said Thursday.
The essence of the campaign is having real smokers tell of the health consequences of their smoking, according to the agency. For the next 12 weeks, the ads will appear on television, radio, billboards, online, and in theaters, magazines and newspapers nationwide.
"The campaign is long overdue," said Matthew Myers, president of the Campaign for Tobacco-Free Kids.
"The scientific evidence is clear that highly charged ads depicting the health effects of smoking are among the most cost-effective ways to reduce tobacco use and reduce the number of kids who start to smoke," he said.
The CDC estimates that because of these ads, 500,000 people will try to stop smoking and about 50,000 will succeed.
An unnamed CDC official noted that this campaign has been in the works for months, and is not intended to replace the effort to put graphic images on cigarette packages. That effort was planned by the U.S. Food and Drug Administration and is currently tied up in court in a suit brought by tobacco companies.
"This new campaign will make an enormous difference, but what is needed is the combination of effective mass media with the government-proposed warning labels," Myers said.
According to the CDC, the new ads focus on smoking-related lung and throat cancer, heart attack, stroke, Buerger's disease and asthma.
Buerger's disease is a rare clotting disorder of the blood vessels in the arms and legs.
The campaign has suggestions from former smokers on getting dressed when you have a stoma (a surgically created opening) or artificial limbs, showing scars from heart surgery and reasons why people quit.
Dr. Len Lichtenfeld, deputy chief medical officer at the American Cancer Society, said the campaign is important, but only a part of an overall effort to get smokers to quit.
The other elements are access to quit programs, smoking cessation medications, tobacco taxes, clean air legislation and advertising.
"We have to have sustained efforts like this if we are going to have an impact on decreasing the number of smokers in this country," Lichtenfeld said. "One of the sad facts is that although we had success a number of years ago in getting people to stop smoking, we have hit a roadblock where 20 percent of Americans still smoke."
One of the major problems is that tobacco companies easily outspend government's efforts to curb smoking with vast sums devoted to promoting their products, Lichtenfeld said.
"The tobacco companies are spending $27 million a day promoting their lethal product, and we can't possibly match those numbers," he said.
Smoking is the leading cause of preventable death and disease in the United States, killing more than 443,000 Americans each year, according to the CDC.
In addition, smoking costs $96 billion in direct medical costs and $97 billion in lost productivity each year. More than 8 million Americans are living with a smoking-related disease, and every day more than 1,000 people under age 18 start smoking, the agency said.
Yet, almost 70 percent of smokers say they want to quit, and half make a serious attempt each year, the CDC noted.
More information
For more on how to quit smoking, visit the SmokeFree.gov.
© 2018 HealthDay. All rights reserved.
Posted: March 2012