Busy Roads Boost Blood Pressure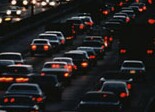 FRIDAY, Sept. 11 -- Living next to busy roads may be bad for your blood pressure, a new study suggests.
People whose homes are in earshot of engines rumbling, horns honking and brakes screeching have an increased risk of high blood pressure, researchers report in the Sept. 9 issue of Environmental Health.
A team from Lund University Hospital in Sweden analyzed data from nearly 28,000 questionnaires about people's living arrangements in Scania, a province in southern Sweden, to determine how much traffic noise they were exposed to on a regular basis.
They found that young and middle-aged people who lived in homes where they were exposed to traffic noise above 60 decibels were more likely to have high blood pressure, which over time can lead to cardiovascular disease and stroke.
The association with hypertension got stronger as the decibel level went up.
Among older people aged 60 to 80, higher decibel levels weren't linked to more hypertension. One reason for the finding could be that younger people are less likely to have high blood pressure, making the impact from traffic noise more evident.
"The effect of noise may become less important, or harder to detect, relative to other risk factors with increasing age," said study author Theo Bodin. "Alternatively, it could be that noise annoyance varies with age."
About 30 percent of Europeans live in areas where traffic noises averages 55 decibels or higher, the researchers noted. "Road traffic is the most important source of community noise," Bodin said.
More information
The Noise Pollution Clearinghouse has more on noise.
© 2018 HealthDay. All rights reserved.
Posted: September 2009