Breast Cancer Vaccine Blasts Some Tumors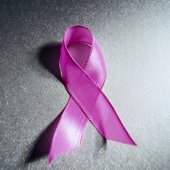 MONDAY, Sept. 15 -- An experimental breast cancer vaccine eliminated tumors in laboratory animals and may someday help prevent cancer recurrence or help treat women with treatment-resistant forms of breast cancer.
"The results were striking," said study author Dr. Wei-Zen Wei, a professor of immunology and microbiology at the Karmanos Cancer Center at Wayne State University. The research was published in the Sept. 15 issue of Cancer Research.
Wei's vaccine targets HER2-positive tumor cells. These breast cancers are often more aggressive than other types of cancer, are less responsive to treatment with hormones, and can become resistant to treatment.
On a cellular level, HER2 receptors promote normal cell growth, Wei explained. They are found in low amounts in normal breast cells, but HER2-positive breast cells can have many more receptors, and that in turn can promote the growth of an aggressive type of tumor.
Even therapies such as Herceptin (trastuzumab), designed to hook up with these receptors and destroy them, sometimes work only for a short period of time, after which patients develop a resistance, and the drug stops working.
Enter the study of Wei's vaccine, which includes "naked" DNA, genes that produce the HER2 receptor, and an immune system stimulant. When she delivered the vaccine into the leg muscles of mice with HER2-positive tumors, the gene made a huge supply of HER2 receptors that activated the immune system.
After the injection, "the body is making in this one location a lot of HER2," she said. The immune system kicks in and mounts an attack against the HER2-positive receptors, she found.
''None of them grew tumors," Wei said. That was true whether or not the tumor cells had grown drug-resistant or not.
The investigational vaccine, one of several under study for breast cancer, looks "potentially valuable," said Dr. Minetta Liu, director of translational breast cancer research at Lombardi Comprehensive Cancer Center at Georgetown University in Washington, D.C.
"This [vaccine] is a little unique," she said. "It may help restore drug sensitivity to tumor cells." Of the research, she said: "It's valuable research, potentially groundbreaking."
"What they are doing is providing a different kind of immune response," added Dr. Bill Chambers, scientific program director for the American Cancer Society. Often a vaccine works by directly stimulating the production of antibodies, which then attack what's perceived as a foreign invader. "Instead of inducing the production of antibodies, it induces the development of cells that directly kill the tumor," Chambers said. "It's a very useful observation."
Much more research is needed to determine if the findings will bear out and apply to humans, Liu said.
More information
To learn more about cancer vaccines, visit the American Cancer Society.
© 2018 HealthDay. All rights reserved.
Posted: September 2008