Brain Yields Up Clues to Language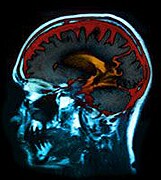 THURSDAY, Oct. 15 -- U.S. researchers say they've achieved a breakthrough in understanding how the human brain computes language.
"Two central mysteries of human brain function are addressed in this study: one, the way in which higher cognitive processes such as language are implemented in the brain and, two, the nature of what is perhaps the best-known region of the cerebral cortex, called Broca's area," study first author Ned T. Sahin, a postdoctoral fellow in the radiology department at the University of California, San Diego and the department of psychology at Harvard University, said in a news release.
For the study, the researchers used intra-cranial electrophysiology to monitor brain language-processing activity while volunteers repeated words or spoke them in different forms, such as past tense or plural.
"We showed that distinct linguistic processes are computed within small regions of Broca's area, separated in time and partially overlapping in space," Sahin said.
He and his colleagues detected patterns of neuronal activity between 200 and 450 milliseconds after a word was presented to a participant. The patterns were identical for nouns and verbs, and consistent between participants.
The findings, published in the Oct. 16 issue of the journal Science, challenge the widely held belief that Broca's area handles speech while another part of the cortex called Wernicke's area handles reading and hearing.
"Our task involved both reading and speaking, and we found that aspects of word identity, grammar and pronunciation are all computed within Broca's area. Crucially, information about the identity of a printed word arrives in Broca's area very quickly after it is seen, in parallel with its arrival in Wernicke's. It has been clear for some time that the expressive/receptive model is out of date, and now it is clearer that Broca's area has several roles, in both expressive and receptive language," Sahin said.
© 2018 HealthDay. All rights reserved.
Posted: October 2009