Brain's Pleasure Chemical May Explain Men's Higher Alcoholism Rate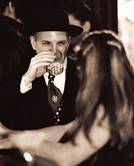 FRIDAY, Oct. 22 -- Differences in the release of the neurotransmitter dopamine may help explain why men are up to twice as likely as women to develop alcoholism, a new study says.
Dopamine, which plays a number of roles in the brain, provides a feeling of pleasure when it's released by experiences such as having sex or taking drugs.
The study included male and female college-age volunteers who underwent brain scans after consuming an alcoholic or non-alcoholic drink. After consuming similar amounts of alcohol, men showed greater dopamine release than women. The increased release occurred in a part of the brain called the ventral striatum, which is strongly associated with pleasure, reinforcement and addiction formation, according to the researchers, from Columbia and Yale universities.
Their findings were published in the Oct. 15 issue of Biological Psychiatry.
"In men, increased dopamine release also had a stronger association with subjective positive effects of alcohol intoxication," Dr. Nina Urban, a study co-author, said in a news release from the journal's publisher. "This may contribute to the initial reinforcing properties of alcohol and the risk for habit formation."
The study also found that repeated heavy drinking episodes resulted in a decline in alcohol-induced dopamine release. This may be a factor in developing tolerance or becoming an alcoholic, the researchers said.
© 2018 HealthDay. All rights reserved.
Posted: October 2010