High Blood Pressure in Doc's Office Not Always Hypertension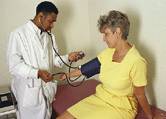 MONDAY, March 28 -- One-third of patients with resistant high blood pressure have so-called "white coat hypertension," a new study suggests.
White coat hypertension is when a patient's blood pressure is high at the doctor's office but in the normal range in everyday life. Resistant hypertension refers to blood pressure that remains above treatment goals despite taking three different types of drugs at the same time.
In this study, Spanish researchers used 24-hour ambulatory monitoring to check the blood pressure of 69,045 patients, average age 64, diagnosed with hypertension. The ambulatory monitoring involved regular blood pressure checks every 20 minutes under normal living and working conditions.
The researchers found that 37 percent of the 8,295 patients diagnosed with resistant hypertension actually had white coat hypertension, and that more women than men had white coat hypertension -- 42 percent versus 34 percent.
Patients with true resistant hypertension were slightly younger, more often male, had high blood pressure for a longer period of time and had a worse cardiovascular risk profile. This group included a larger number of smokers, diabetics and patients with ventricular hypertrophy and previous cardiovascular disease.
The study is published in the current issue of the journal Hypertension.
"Ambulatory blood pressure monitoring should be mandatory in resistant hypertension patients to define true and 'white coat' hypertension," lead author Dr. Alejandro de la Sierra, director of internal medicine at Hospital Mutua Terrassa, University of Barcelona, said in an American Heart Association news release.
"Patients benefit by knowing whether their blood pressure is normal during daily activities or still needs the reinforcement of dietary and drug measures to achieve the goal," according to de la Sierra.
More information
The U.S. National Heart, Lung, and Blood Institute has more about high blood pressure.
© 2018 HealthDay. All rights reserved.
Posted: March 2011