Blood Flow Measurement Boosts Stent Outcomes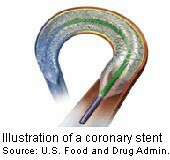 WEDNESDAY, Jan. 14 -- A sophisticated measure of blood flow to determine where artery-opening stents should be implanted is more effective than the X-ray examinations now commonly used, an international study finds.
The technique, measuring what's known as "fractional flow reserve" (FFR), is designed for people who have multiple blockages that require artery-opening procedures such as angioplasty, followed by implantation of the flexible tubes called stents, explained study co-author Dr. Nico H. J. Pijls, professor of cardiology at the Catharina Hospital in Eindhoven, the Netherlands.
Such multiple blockages are seen in about 60 percent of cases, said Pijls, a leader in development of the flow-measuring technology.
The team published their findings in the Jan. 16 issue of the New England Journal of Medicine. The research was funded in part by Radi Medical Systems, which makes the FFR device tested in the trial.
The study, carried out in 20 European and U.S. medical centers, compared patient outcomes for stent implants using either FFR measurements or angiography (X-ray images) in 1,005 people who underwent artery-opening procedures.
Over a year of follow-up, 13.2 percent of those whose stents were implanted by the FFR method died, had major coronary events such as heart attacks or needed new procedures, compared to 18.3 percent of those in the X-ray group.
The cost of their treatment was lower, averaging $5,332 for the FFR cases against $6,007 for the angiography-guided group. The lower cost was due in part to the use of fewer stents in the FFR cases, an average of 1.9 versus 2.7 stents in the angiography group.
That's a real advantage, Pijls said, because, "you can do it in a more refined way. There are fewer complications, because instead of shooting for all stenoses [blockages], you can use stents only on those that are dangerous for the patient."
The FFR technology is not currently available in many medical centers, however. Its initial cost is $20,000, with a charge of about $600 for each use. "But its use will definitely increase if you look at these results, which I call impressive," Pijls said.
FFR is measured by inserting a pressure sensor mounted on a guidewire to the site of blockages in the arteries. FFR equipment is marketed by St. Jude Medical.
"This will provide impetus for some catheter laboratories to buy it, but we don't use it on a routine basis," said Dr. Stephen G. Ellis, director of the cardiac catheterization laboratory at the Cleveland Clinic and author of an editorial accompanying the report.
FFR measurements were used to guide stent implants in about 10 percent of cases at the Cleveland Clinic in the past year, Ellis said. "I doubt if we will be using it in more than 25 percent of cases," he said.
Cost is an issue, he said, since "economic times are hard for hospitals now. We don't have enough data on costs. What we need is a U.S.-based study of the cost involved. One would assume that because it reduces the number of second procedures, that would offset the roughly $600 cost per case."
The group that did the study "is now doing a more extended cost-benefit analysis," Pijls said.
The new report probably will not lead to a surge in American use of the FFR technology, according to Ellis, but its use is bound to widen. "This is not a revolution but a devolution," he said. "It is logical to treat only blockages that are physiologically significant."
© 2018 HealthDay. All rights reserved.
Posted: January 2009