Black Americans With Lupus Have Better Response to Flu Vaccine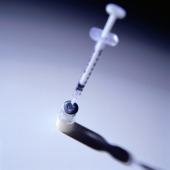 THURSDAY, May 19 -- Black Americans with lupus have a higher antibody response to flu vaccination than whites with lupus, a new study says.
This may be good news for black Americans with the disease, since patients who had a weak response to the flu vaccine were more likely to experience moderate to severe disease flares following vaccination, compared to patients who had a greater response.
As many as 322,000 adults in the United States have systemic lupus erythematosus (SLE), an autoimmune disorder in which the immune system produces antibodies that attack the body's own tissues and organs. Immunosuppressive therapy and immune system problems make lupus patients more susceptible to infection, according to the researchers.
Because of this increased risk, vaccination against common infectious diseases such as the flu are recommended for lupus patients.
In this study, U.S. researchers analyzed blood samples and disease activity of 72 lupus patients and 72 healthy patients before they received a flu vaccination and two, six and 12 weeks after vaccination. Based on their antibody response to flu vaccination, the patients were categorized as either high or low responders.
Black patients were three times more likely to be high responders than whites. The researchers also found that patients taking the immunosuppressant drug prednisone (10 mg/day or more) were more likely to be low responders (67 percent) than high responders (47 percent).
A low response was also more likely among patients with a history of hemolytic anemia.
The study appears online May 19 in the journal Arthritis & Rheumatism.
"Studies investigating biomarkers that could predict which lupus patients are likely to experience a flare following vaccination are already under way," wrote lead researcher Dr. Judith James, chair of the arthritis and clinical immunology program at the Oklahoma Medical Research Foundation and professor of medicine at the University of Oklahoma Health Sciences Center, and colleagues, in a journal news release.
"This information, along with serologic tests of patients expected to mount a weak response, would help clinicians identify those SLE patients who may need an alternate vaccination schedule or would need to be closely monitored after receiving the influenza vaccine," she added.
Infectious diseases cause 23 percent of all hospitalizations and 20 percent to 50 percent of all deaths among lupus patients.
The Lupus Foundation of America has designated May as Lupus Awareness Month.
More information
The U.S. National Institute of Arthritis and Musculoskeletal and Skin Diseases has more about lupus.
© 2018 HealthDay. All rights reserved.
Posted: May 2011